FW21 Campaign
Come Together: Choose Future
Five pioneers. Five ways of experiecing nature. Five individual journeys that come together in a moment of mutual recognition. Shot at 2336 mt within the natural frame of Giau Pass, the FW21 campaign celebrates nature as the quintessential source of inspiration for Napapijri and its people. Wonderers, trailblazers, explorers, pioneers who are not afraid to walk alone, because no one is really alone in nature. Bravely embracing the unknown and creating their own maps, ready to take on undiscovered paths.
Discover full selection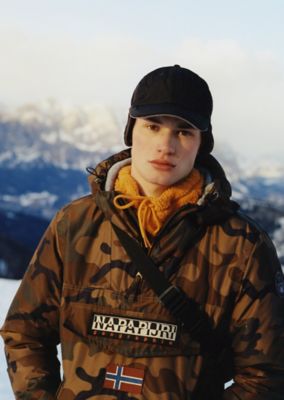 Discover the Rainforest Jacket
The Rainforest Jacket

Our Icon, Our Nature
Colourful, comfortable, contemporary: the Rainforest Jacket is our most beloved icon. So much so that many simply call it "The Napapijri Jacket". From down‑free Thermo‑FibreTM Insulation to its unmistakable kangaroo pocket and fleeced hood, it is a comfy and versatile winter ally that celebrates the anorak as the ultimate Napapijri outerwear style.
Collection Highlights
20-22° Series

Design meets Thermoregulation
20-22°C indicates the ideal temperature at which the human body is generally most comfortable. Combining design, sustainability, and innovation we created a selection of winter jackets defined by essential, elegant lines, detachable elements, superior thermoregulation and a sustainable soul thanks to our down‑free Thermo‑Fibre™ insulation.
Stay tuned for the full collection and check out our Highlights.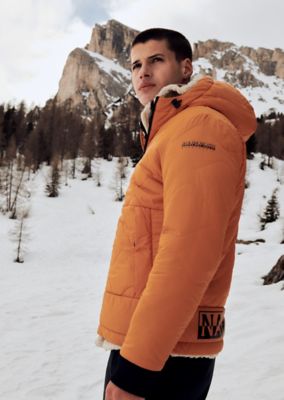 Collection Highlights
Circular Series
100% RECYCLABLE,
100% C2C CERTIFIED®,
100% COMMITTED TO NATURE​
Circular Series is not just a story. ​It is THE story of our commitment to designing the future of circular fashion by re‑imagining the life‑cycle of clothes. ​All the styles in the Circular Series are 100% recyclable, Cradle to Cradle Certified®, and can be returned to us after two years from purchase to be transformed into new garments thanks to our digital take‑back program.
Stay tuned for the full collection and check out our Highlights.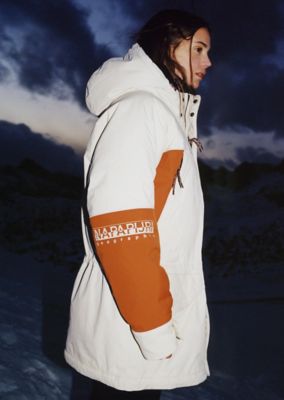 Collection Highlights
Archive Selection

Iconic Outerwear since 1987
Anoraks, parkas, vests: the archive selection is an homage to the classic outerwear cuts that have shaped the brand since its creation in 1987.
Stay tuned for the full collection and check out our Highlights.
Icons
20-22
Circular Series
Archive
FW21 Collection
From Trentino to Nepal: celebrating our mountain heritage
Napapijri's FW21 collection is celebration of the brand's mountain origins and DNA. From the mighty Dolomites to inspirational Nepal, this collection celebrates the beauty of outdoor living through colour, shapes, and materials that bring to life Napapijri's authentic connection with nature. From the 100% recyclable, C2C Gold Certified® Circular Series to NATIVA® certified wool, this collection upholds the brand's commitment to sustainability and elevates it through design and innovation.